ABM WOODWORKING MACHINERY
A REPUTED NAME IN LINE BORING MACHINES.

ABM Woodworking Machinery Company is a leading manufacturer of Line Boring Machines in Taiwan, and always continues to work at the technical forefront of line boring machines. ABM designs and manufactures a wide variety of high quality line boring machines, ranging from single head, three head, to nine head configurations. Each design is engineered and tested for dependable and efficient applications.
The hard-won ABM reputation for uncompromising machine quality and precision is a result of continuously innovative research and development use of state-of-the-art manufacturing techniques and stringent quality control procedures.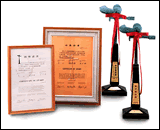 QUALITY PROVEN LINE BORING MACHINES DESIGNED TO DRAMATICALLY IMPROVE YOUR BORING EFFICIENCY.

Since established in 1966, ABM has spent great efforts and capital in research and development. Our R&D department consists of mechanical and electrical engineers, who are striving hard to develop new machines and improve our existing models for upgrading efficiency and performance. This results in periodic introduction of all new generation of high performance boring machines to meet market demands.
All critical parts are precision machined by the sophisticated CNC machining equipment. Rigorous testing and examination ensures conformance of each part to highly accurate tolerance. ABM boring machines are subject to an extensive final inspections and operation tests before shipment. If it does not measure up to our standards, it never leave our factory. That's simple, because ABM always insists on quality.